If you work in a team, communication between the only colleagues in the home office also becomes a challenge. We use Slack to exchange information quickly and easily. Slack is an internal company chat, which not only enables the exchange of direct messages but also works with so-called channels. A channel can correspond to a topic, a project, or a department. For each channel, you can define which colleagues have access to it. So you are always sure that all relevant colleagues are informed when you write in the corresponding channel.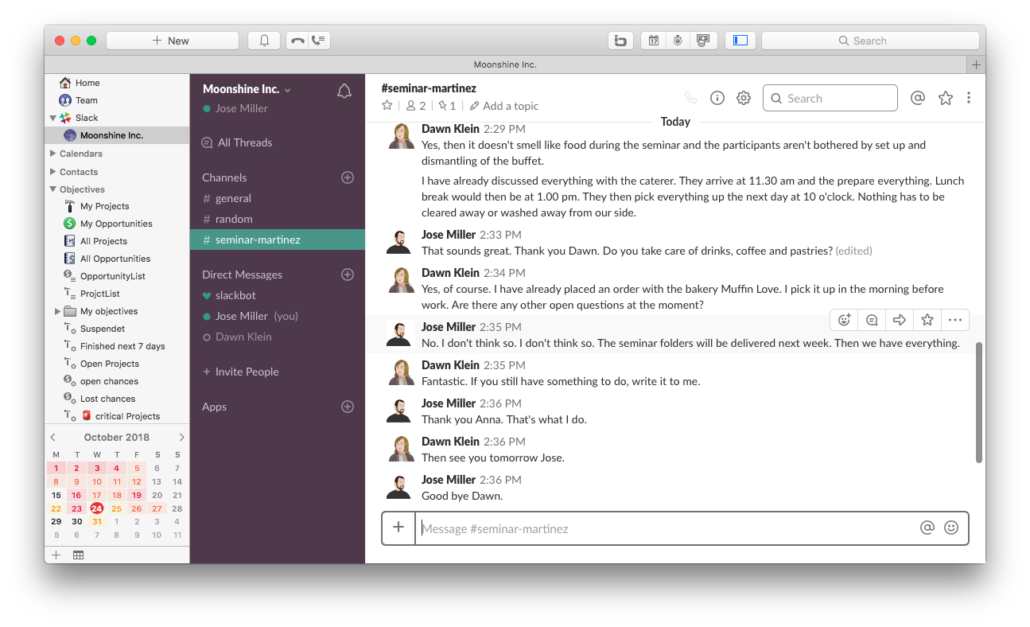 Slack also allows you to exchange files and even make audio and video phone calls. A suitable iPhone app ensures that you can stay in touch with your team even when you're on the road. Another advantage is the countless integration possibilities that Slack offers. For example, we automatically receive a slack message when a customer has booked an appointment via Acuity.
With the help of our Daylite Extension Marketing&Chat, Slack can also be integrated into Daylite. The integration enables us to link a Slack conversation with a Daylite project or a specific person. Especially for a project linking it is very helpful that you can invite guest users when using the paid version of Slack. This way we handle not only the internal communication for larger projects with Slack but also the communication with the customer by inviting them to a project chat.
Would you like to work remotely with your team? We are happy to help our Daylite customers with the setup of Slack free of charge. Arrange a free appointment here:
More information on this topic:
We have compiled all the services that we present in our Remote Working series in a PDF for you to download.
More articles from our series about Remote Working:
Intelligent Contact Forms on your own Website
Zoom video conferencing with customers and colleagues
HELLO Cam for Video Conference Calls
Double Robotics Telepresence Robot
Relevant articles:
Daylite and Slack now best friends
Daylite HelpCenter:
What is Slack and how can I log in?
How do I use Daylite Slack Integration?
How do I set up Daylite Slack Integration?