Experience how our new Boards plugin makes working with tasks and projects fun again. Having Kanban boards in your projects doesn't just make them clearer – you can now see at a glance what status a task is in and even reduce the number of tasks altogether!
Kanban was originally developed by Toyota to optimize production processes. In recent years, Kanban has been used more and more frequently in other industries for project planning in order to make processes more visual, efficient, and leaner. Boards are a great help when it comes to distributing tasks in a team or displaying progress and bottlenecks in a project.
This is what a Kanban board in Daylite looks like: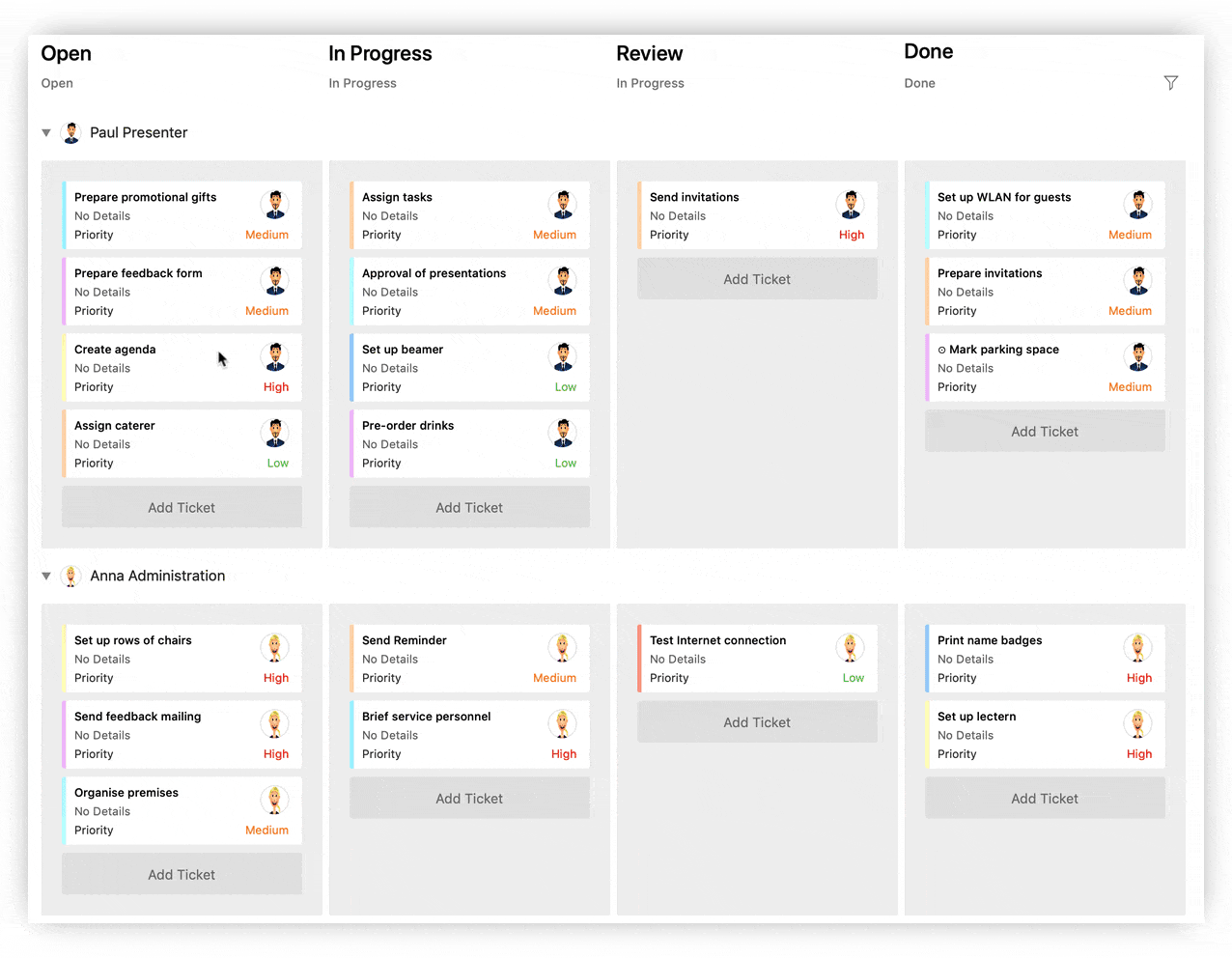 With our new Boards plugin, you can not only create a board for each project but also use Boards' technology to get an overview of your current projects and opportunities.
All tasks assigned to a project appear as tickets on your boards. Boards can have different views (Minimal, Standard, Expanded). Create as many custom columns as you like, within which you can move your tickets via drag and drop. You can see at a glance which user is intended for which task and how high their workload is within a project. You can sort your project boards horizontally according to different criteria, such as priority, user, or category, depending on the perspective you want to take.
By moving a ticket, you not only assign a new processing status to a task, but you can also delegate the task to a coworker. Being able to add status/phase columns is especially useful for tasks with the "in progress" state, allowing you to analyze your progress even better.
Overview boards for projects and sales opportunities
The overview boards for projects and sales opportunities quickly show you the status of your projects and opportunities. This makes it easy for you to forecast your sales when opportunities arise and also gives you a simple controlling option for your projects. See immediately how many ongoing projects an employee has, which sales opportunities are in the hot phase, or which projects and opportunities are stuck in certain phases.
How much does Boards cost?
Boards is part of our plugin flat rate.
For all those who want to jump right in working with boards, we have created a number of interesting HelpCenter articles:
 We are here to help!
Any questions? Contact our team or visit our HelpCenter.